Continuing with the breakdown ala dissertation style at which I'm going to examine each Oscar category, I've decided to be consistent and do another one today. (read my thoughts on the
Animated Film
category.)
Having not seen
Dreamgirls
(which comes out this Friday), which is nodded in 8 times in 6 of the sodding categories, it's a bit difficult to dance with many of the categories that I want to. Still, there's good news – my dad rented Click last night, and I managed to see Apocalypto at the weekend due to the marvels of BitTorrent. So I can delight you with the wonders of…


Best Make Up!
Here are the nominees:
Apocalypto

Aldo Signoretti

;

Vittorio Sodano


Click

Kazuhiro Tsuji

;

Bill Corso


Pan's Labyrinth
David Martí
;
Montse Ribé
How I did: 67% - I correctly predicted
Apocalypto
and
Pan's Labyrinth
, but I thought that history would repeat itself and Pirates
of the Caribbean II
would get nominated here – one of the few categories in which the film actually did well. Still, it's amusing for people to be able to now say, "Oscar nominated film –
Click
!"
Now. The films.
I don't really feel too strongly about make-up, to be honest, as a category. I mean, I think it's really important that the makeup artists get recognised. But it's not a category I follow all that deeply. I can't even remember who won Best Make Up last year. *checks on IMDb.* Oh yeah: Narnia. OK, I did remember that. Honest. But I'm with BAFTA on this – I would much rather they had the category as Best Hair and Make Up, because even though sometimes they work separately (e.g., in capturing the Vienesse hairstyles of
Marie-Antoinette
with Marie's pale cheeks), most of the time, the Art is in managing to contrast the two.
… Or maybe I just say this because I actually brush my hair every morning, whereas I don't really bother with make up. :P
I think that was enough rambling. Now let's see my rankings:

01.
Pan's Labyrinth
A teensy bit of this is going to be bias, I grant you.
Pan's Labyrinth
is my favourite film of 2006, so naturally, I'm going to think it's perfect in every way. But the make up was really well done, from the way the fantasy characters were painted, but really, and more pertinently, the make-upping of the people was as wonderfully done and gruesome. The alcohol bleeding into the stitching – eww – one of the most ghastly images of the year. Grade for the make up: A.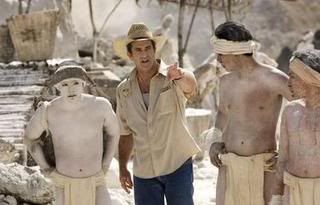 02.
Apocalypto
Apocalypto was a film where I was able to give up on the plot, and follow the technical categories – art direction, make up, cinematography, etc. And although I can't claim to be an expert on the Mayan kingdom, I was still totally convinced by the technical work on the make up; the wounds and maulings looked very realistic and grim. There was a huge crew involved in the make upping of this film, from Hair and Makeup designer, Vittorio Sodano: Makeup designer, Rossella Gregorio: Makeup supervisor, Caterina Sisto: prosthetic Makeup supervisor, Maurizio Nardi:on set Makeup supervisor, and for the large epic scale of the work, I feel that it is probably going to walk away with this award. Grade for the make up: A-.
03.
Click
Heehee. Very entertaining film, though I'm sure most non-Sandler fans would probably disagree. But now that I come to think of it, doing to the old and young Adams were both great, and pretty much made up for the CGI, which wasn't too impressive. Hate the movie all you look, but you can't deny that the make up was pretty fun and well done. Grade for the make up: B+.
Who will win:
Apocalypto
.
Who deserves to win:
Pan's Labyrinth
.
Who deserved to be nominated:
The Devil Wears Prada
– Emily looked exquisite. :)
And that's that. Not a terribly interesting category, I'll admit.
Tags:
Apocalypto
,
Click
,
Pan's Labyrinth
,
films
,
Oscars
.
By the way, it also struck me: no-one ever watches the short films that are nominated. Well, I found links to a couple of 'em online, for your viewing pleasure:
Animated
:
The Danish Poet
,
No Time For Nuts
,
The Little Match Girl
,
Maestro
,
Live Action
:
One Too Many
,
Binta and the Great Idea
,
The Saviour
(Part I) and
The Saviour Part II
Enjoy them, and if you have any more, feel free to add 'em. :)